COMODO MESSAGING SUITE
SECURE FLEXIBLE MESSAGING
The importance of email to your business cannot be understated. The demands of today's dynamic business world, along with numerous governmental and industry regulations, are defining a complex and critical enterprise messaging landscape. Because of this, it is essential that organizations have a robust mail platform which guarantees the secure delivery of confidential and sensitive information at all times.
COMODO MESSAGING SUITE
Comodo Messaging Suite is a highly scalable mail management solution for enterprises . It uses a distributed architecture capable of reliably serving millions of users. Featuring full clustering capabilities and tight integration with LDAP, Messaging Suite supports all major mail protocols and delivery mechanisms, including IMAP, SMTP, POP3, HTTP, Jabber and XMPP servers. Messaging Suite also features Ajax-based archiving, data-loss prevention technologies and a powerful indexer capable of handling granular content searches across millions of mailboxes.
5 Reasons to Choose Comodo Messaging Suite
Simple Easy installation, user-friendly interface and intuitive yet powerful management.
Flexible Use Messaging Suite to send and receive web-mail from anywhere.
Mobile Embrace the BYOD revolution via Messaging Suite's full compatibility with iOS and android devices.
Stable 10 years of R&D has made Messaging Suite the most reliable and dependable mail solution around.
Economic No need to buy additional hardware or software. Sensible, low-cost licensing structure.
KEY FEATURES
LDAP-based Architecture
E-mail Archiving and Indexing
Global Address Book
External Active Directory Support
Web-based Management Panel
Adding/deleting domains
Adding/deleting users
Updating user quota and password/
composing vacation messages/redirecting e-mails
Push Mail/CalDAV/CardDAV support
Ajax-based Webmail
POP3/POP3S, IMAP/IMAPS , SMTP/SMTPS support
Calendar sharing support for Outlook
Support for mobile devices
XMPP intracompany communication server
Flexible reporting
Server statistics
Detailed e-mail delivery tracking
KEY BENEFITS
Offers flexible solutions for your distributed system by means of its cluster support.
Allows for a structure able to serve to millions of clients.
Enables detailed search within the archived e-mails.
Features advanced management facilities for telecommunication and service providers.
ADVANTAGES
Reduce hardware and operational costs associated with mail provisioning.
Scalable, distributed architecture delivers consistently high performance during periods of high traffic.
Advanced reporting, archiving and mail search features.
Gelişmiş raporlama özelliklerine sahiptir.
Interface available in multiple languages
Multiple administrative tiers and configurable user permissions.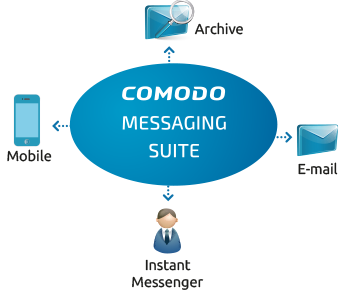 MINIMUM SYSTEM REQUIREMENTS
Comodo Messaging Suite works as a virtual server and has the following requirements:
Virtual Platforms: Vmware ESX or ESXi 4.x, 5.x veya Citrix Xen Server 6.x
Minimum Hardware : 1xCPU, 8 GB RAM, 120 GB HDD